About us
Your hosts at Thorstorp.
Kerstin Bergström, together with her daughter Magdalena Holström, runs the equine operation at Thorstorp's farm.

Kerstin has more than 35 years experience with horses and horse management. She is a trained animal carer and has during her career worked at a specialized clinic for horses. Later she worked as a biomedical analyst, within the field of medical research. After her studies in, amongst other things Economics, she is now working within capital investment. When she was younger, she competed in both dressage, show jumping and horse driving. She has ran her breeding operation since the beginning of the nineties. Kerstin, who lives on the farm, manages the stable with its lodgers, her private horses and the Bed & Breakfast.

Magdalena grew up with horses and has been riding since she was very young. She majored in farming education, complemented with a production and operation manager's degree. Magdalena will soon finish her environmental science education at the University of Linköping. She has also competed in dressage and show jumping.

Magdalena manages the quality assurance of our coarse feed production (hay and hay silage) together with the feeding plan and analysis. She also handles the breaking-in and education of our colts and rides the brood-mares. Magdalena lives together with her partner, at a small farm with beef cattle and sheep.


Our vision
*To breed solid and lovely horses that during their growth have their motion needs fulfilled together with their sense for the terrain developed in hilly pastureland.

*They shall also be fostered and develop their social skills in a herd of horses of various ages.

*The breeding will only use the best mares of good pedigree to produce top performing, competitive horses. Emphasis is based on the mare's qualities and temperment in the choice of a suitable stallion.

*During its development, the horse will have had adequate fodder of the highest quality so that it may achieve its full growth potential. The feeding plan is based upon coarse feed.

*The horse shall already during its time as a foal have a basic upbringing, which gives a stable and cooperative horse, with great trust for humans.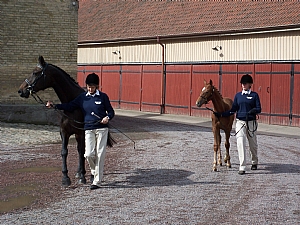 Kerstin and Magdalena (National foal-08, Flyinge)